Microsoft .Net
We provide application development and integration services to customers utilizing leading-edge technologies from Microsoft.
Microsoft technology provides the ability to quickly build, deploy, manage, and use connected, security-enhanced solutions with Web services.
We use .NET as technology platform for the development, deployment and execution of applications to address the unique requirements of your business.
We maximize the use of .NET technology to build robust windows as well as Internet applications.
We develop custom build application as per your specifications to gain better flexibility, reduce costs and improved responsiveness.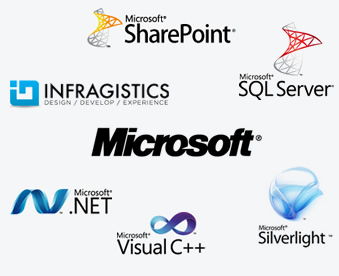 Exioms applies Microsoft software technology, providing the safety advancements, management tools, and updates needed to build reliable and secure software. We use applications based on Microsoft technologies like ASP (Active Server Pages), ASP.NET, C#.NET SQL Server, enabling us to build and manage solutions quickly and efficiently.
Expertise
Microsoft .NET Desktop and Web Application Development.
Microsoft .NET Custom(Bespoke)Software Development.
Microsoft.NET Application Maintenance and Enhancement.
Legacy Application Modernization or Migration to Microsoft .NET (VB 6 to VB .NET, ASP to ASP .NET) .